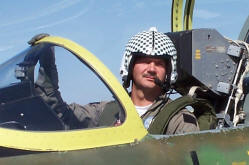 With 25 years experience specializing in Eastern Bloc Aircraft, no other single individual in the US is qualified to

import, inspect, test fly, repair, and/or rebuild

your eastern bloc aircraft from tip to tail. Steve's multiple talents translate into speed and economy for jet owners or buyers. If you're looking to

purchase one or a dozen Jet warbirds

, Steve has the connections to find the best planes at the best prices. Qualified to instruct in many Eastern Bloc aircraft, Steve will provide the best training for those seeking a

jet type-rating

.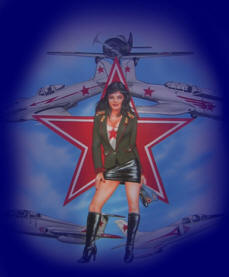 Steve "Rocket Man" Kalmar's unique qualifications
Steve has logged 6,500+ hours over his 30 years of flying. He's an experienced glider, fixed-wing, helicopter and turbine aircraft pilot. (Jets: L-29 Delfin, L-39 Albatross, MiG 15, MiG 17, MiG 21, and MiG 29. Fixed Wing: Zlin-326, 526, 726, 142, 242, 37, L-200 Morava, PZL, Yak 12, PZL 101 & 104 Wilga, 108 Dromader, Antonov-2. Helicopters: MI-2, KA-26, Bell 47, Bell Jet Ranger, Hughes 300, 500, and MD500)
Ex-Hungarian Air Force Fighter Pilot
A graduate of the Russian test pilot school Zhukovsky in Moscow, Steve was trained on the famous MIG-29 Fulcrum by the best Top Gun Instructor, Alexander Garnaev.
Fighter Jet Instructor / Test Pilot
As an instructor, Steve trained Eastern Bloc Fighter Pilots in the Hungarian Air Force. Since then he's also trained former US Fighter Pilots as well as many civilian pilots who now act as pilot in command of their personal fighter and trainer jets. He's type rated to fly and train in the following jet aircraft: L-29 Delfin, L-39 Albatross, MiG 15, MiG 17, MiG 21 and MiG 29.

CONTACT
Steve Kalmar
Phone (310) 462-3626
E-Mail steve@easternblocaircraft.com
Directions:

Chino Airport (KCNO) Hangar #50
(Los Angeles Basin, Southern California, USA)
HINO AIRPORT (KCNO)Merrill Ave., Chino, CA
View Map
HANGAR # 50 is across from the Air Museum Planes of Fame. Use the
main entry road, there is auto parking along the hangars on your left hand
side. Transient parking for Fly-Ins is located in front of the control tower.
www.airnav.com/airport/KCNO
15 minutes drive South of Ontario International Airport
20 minutes drive North of John Wayne Airport
25 minutes drive East of Long Beach Airport
60 minutes drive East of Los Angeles International Airport
Please visit, there is plenty to see including the two largest air museums in
California - The Air Museum Planes of Fame and The Yanks Air Museum.
Fly with me and get a free pass. Tour the field and get a glimpse of the many
unique restorations under way, such as a WWII Japanese Zero, a B-25 or a
P-51 Mustang. It truly is a Warbird Paradise.